What I'm Reading: The Splendid Table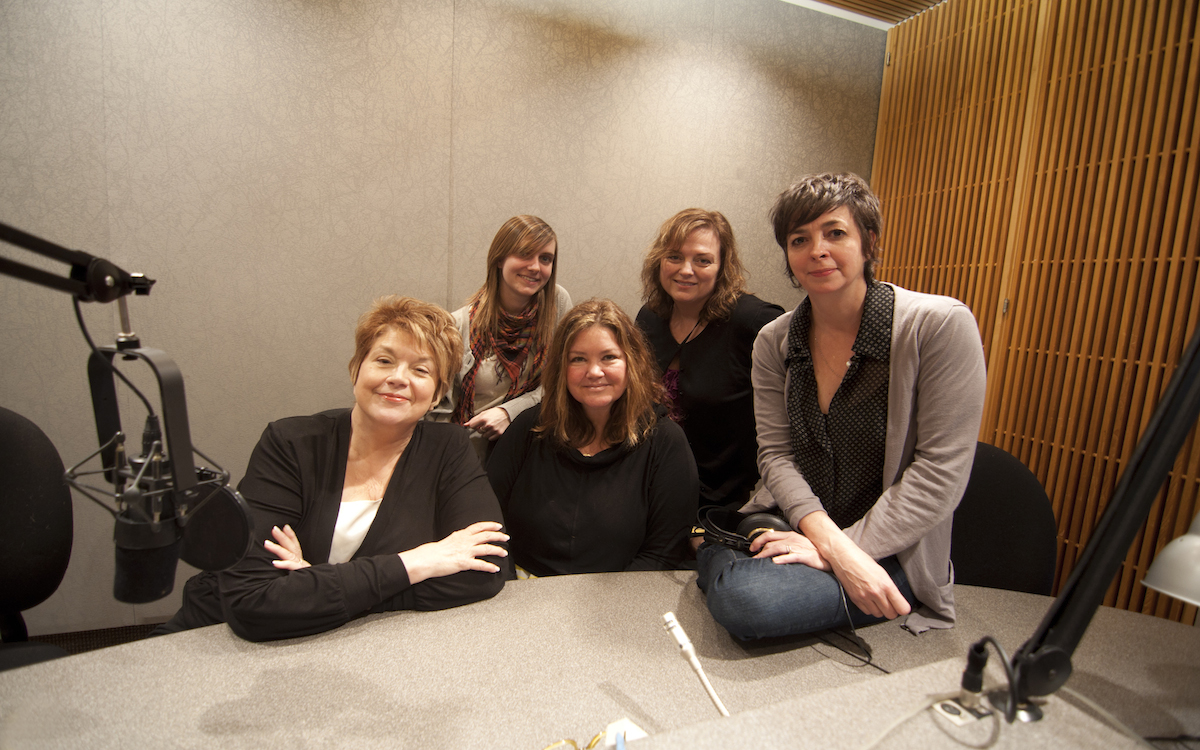 It's hardly an exaggeration to say that Americans are obsessed with food. But it's a recent phenomenon. Where older generations didn't deviate far from traditional American staples, our appetite today reflects the layered diversity of a modern nation—think salad bowl, not melting pot.
Today when we talk about food, we're also talking about culture. Our consideration for the farm-to-table movement or the ethical treatment of animals is evidence that our hunger has developed alongside our intellect. We now want food writers and enthusiasts to share more than recipes: we want them to tell us about who we are as a people.
One of the most engaging and accessible programs to meet this broad charge is American Public Media's The Splendid Table, hosted by Lynne Rossetto Kasper. In their celebration of food, the weekly radio program wants to "explore the culture, the science, the history, the back stories and the deeper meaning that come together every time people sit down to enjoy a meal." We recently asked their web editor, Andy Kruse, to explain how The Splendid Table sifts through the world of food on Flipboard:
Flipboard started for us as an outlet for the links we used to share privately with each other. The Splendid Table only releases podcast episodes once a week and those spots are booked sometimes months in advance, but we wanted to provide a more lively stream of the topics we were reading about and considering for future segments. So now I round up all of the articles that our producers pass around in email, Slack channels and Gchats to make this curated magazine.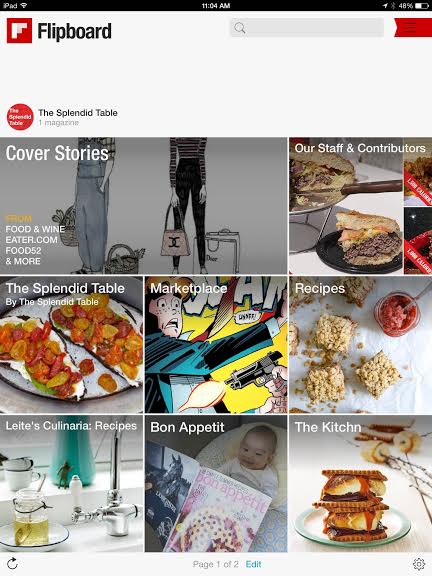 At first, I leaned heavily on the bookmarklet to flip from my desktop browser. Because that's what I do all day: sit at a desk. We were export-only, finding good writing and good recipes via traditional means and passing them along.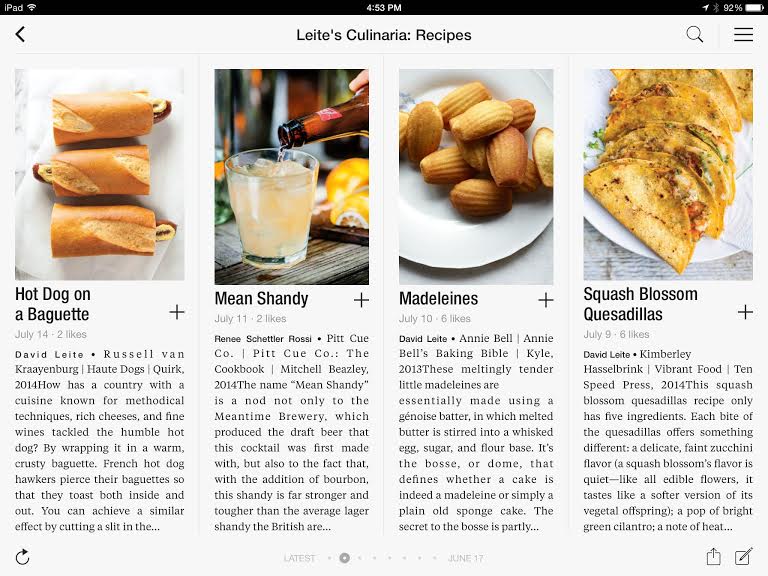 Gradually, though, I started to use Flipboard not just to admire my work but also as a tool for discovery. I could kick back with an iPad and appreciate my Flipboard home screen as a way to filter Twitter — to cut out the jokes and subtweets and get right to the beautiful photography behind shared links.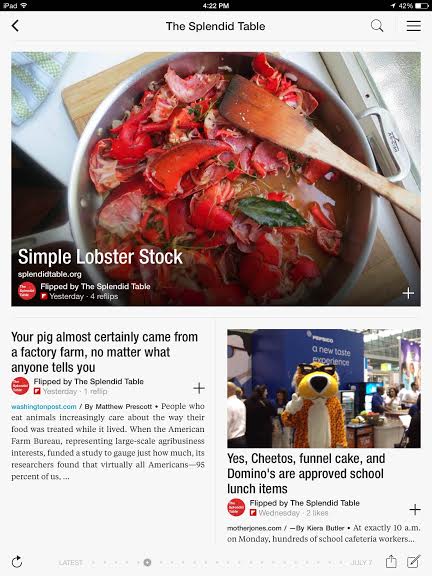 So now, the first thing I tap on is the Twitter list of The Splendid Table's staff and contributors. It's a good check of what Melissa Clark is working on for The New York Times or what Noelle Carter is writing for The Los Angeles Times. But mostly, the list is populated by two prolific tweeters: Splendid Table producer Jennifer Russell, and David Leite of Leite's Culinaria.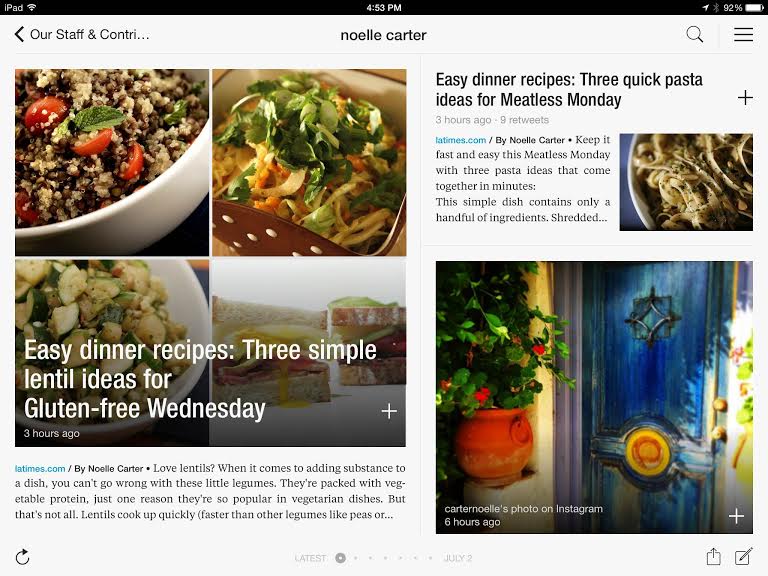 We always find good things from The Kitchn and Bon Appetit, from Modern Farmer and Garden & Gun. Andrew Schloss has some interesting takes on slow-cooking. The work J. Kenji Lopez-Alt does in his Food Lab is amazing. You have to flip a few more pages, but there are often food crossover reads from Wired, Fast Company, and our buddies at Marketplace.
The next magazines we're planning to curate for Flipboard are in specialized niches, akin to Bon Appetit's Sriracha Central. We have a DIY recipe category on our website that includes all the store-bought items that would be better made at home. It both dips into our archive and sees regular additions, so I think it would make a nice magazine. Also: Christmas cookies.
For more of The Splendid Table's curated culinary finds, flip through their magazine on Flipboard: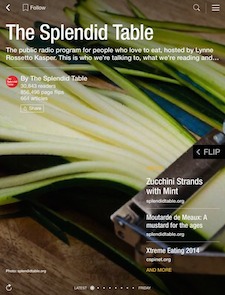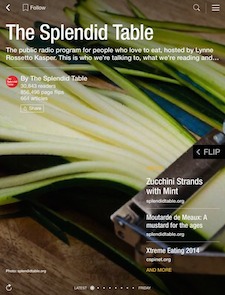 ~ShonaS is curating "Compulsive & Conscious"
/flipboard
@flipboard
+flipboard